District Emergency
School closures due to Evacuation Orders
School Closures due to wildfires
Career Pathways School, Wabasca Alberta
Mistassiniy School, Wabasca Alberta
St. Theresa School, Wabasca Alberta
Chipewyan Lake School
Pelican Mountain School (Sandy Lake)
Paddle Prairie School: Closed for the remainder of the 2018-2019 school year.
Any decision regarding school operations will be announced once more information becomes available.
Evacuation Orders
Sunday, May 26, 2019, at 6:00 p.m.: Paddle Prairie Métis Settlement
Re-entry for communities previously under Evacuation Order
Wednesday, June 12, 2019: Phase 3 Re-entry (Return of Residents) for Wabasca-Desmarais, Sandy Lake and Chipewyan Lake. The threat of wildfire still exists for the above-mentioned communities. As a result, a four (4) hour Evacuation Alert will remain in effect.
Question and Answer page for students, parents, staff impacted by the wildfires
Click here to view the Question and Answer page.
Coaching Kids at Conklin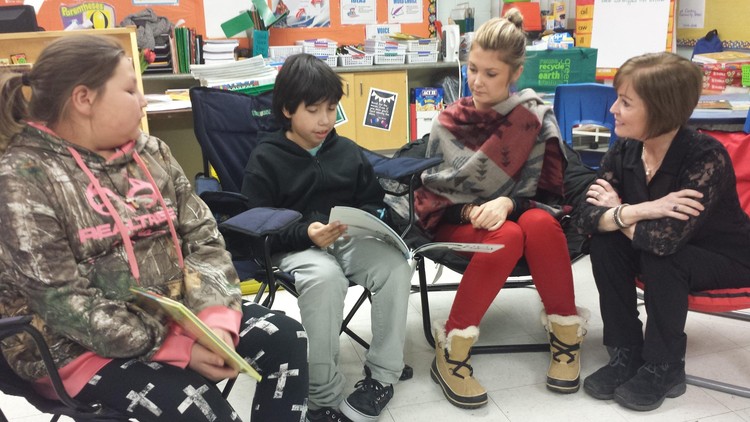 Last year, Conklin Community School had another great opportunity to encourage leadership in students by implementing an Aboriginal Youth Reader Mentorship Program at the school.  The pilot program was created in part by the Literacy Lead- Ms. Reck and the Rotary Club of Fort McMurray and was funded fully by ConocoPhillips.
Shahawna Tremblay and Reece Atkinson expressed interest and received training on how to select and share interesting books to build literacy skills of younger peers at the school. Thank you Shashawna and Reece for your dedication to your young students and the program.
Thank you ConocoPhillips and the Rotary Club of Fort Mc Murray for your support on this initiatives for our students.  
Details about our year 2 program will be coming soon!