District Emergency
School closures due to Evacuation Orders
School Closures due to wildfires
Career Pathways School, Wabasca Alberta
Mistassiniy School, Wabasca Alberta
St. Theresa School, Wabasca Alberta
Chipewyan Lake School
Pelican Mountain School (Sandy Lake)
Paddle Prairie School: Closed for the remainder of the 2018-2019 school year.
Any decision regarding school operations will be announced once more information becomes available.
Evacuation Orders
Sunday, May 26, 2019, at 6:00 p.m.: Paddle Prairie Métis Settlement
Re-entry for communities previously under Evacuation Order
Wednesday, June 12, 2019: Phase 3 Re-entry (Return of Residents) for Wabasca-Desmarais, Sandy Lake and Chipewyan Lake. The threat of wildfire still exists for the above-mentioned communities. As a result, a four (4) hour Evacuation Alert will remain in effect.
Question and Answer page for students, parents, staff impacted by the wildfires
Click here to view the Question and Answer page.
Let's Get Energized!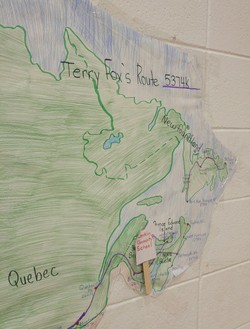 We are... we are energized!
Since we started last fall, we have now traveled all the way through Atlantic Canada and are heading to Quebec! 
If you have some time or are visiting at the school, why not join us in the gym most mornings as we journey the steps that Terry Fox took during his heroic trek across Canada for Cancer research- you can walk, jog or run the distance as we get fit to some cool tunes too.  
As we get fit walking, jogging or running we hope to build our endurance and stamina.
Youth Running Club starts at 8:30 a.m. in the gym Tuesdays- Fridays.  
Youth Run Clubs are found all across the country- the Club has grown from just 75 schools in 2012/13 to 363 schools and over 22,000 participants in 2015/16.  
Way to go Conklin for coming on board this school year. Go Conklin!