Back to all posts
Posted on:
Remembrance Day Assembly and Peace Fest at Conklin Community School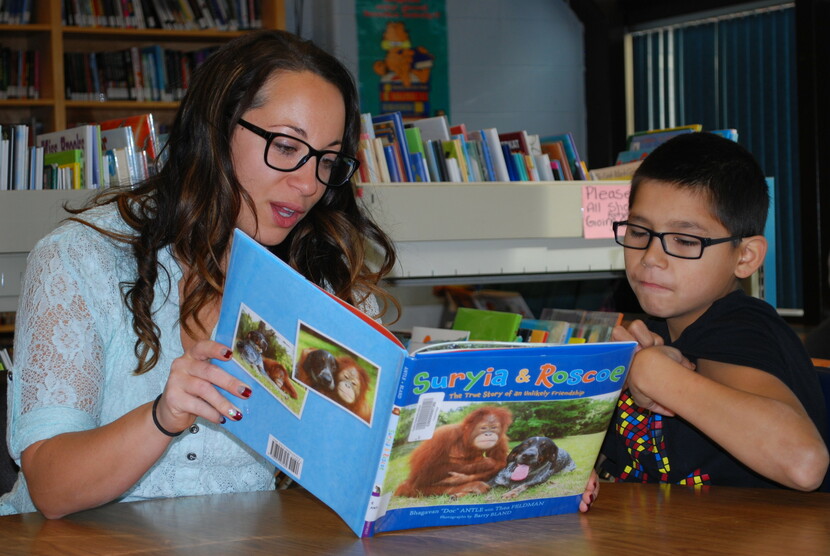 A literacy fest for the ages at Conklin Community School!

Conklin staff, students, parents and community members in partnership with Cenovus Energy organized Peace Fest 2014. The November 10th festival celebrated Literacy and recognized the importance of Remembrance Day.
The morning began with a Remembrance Day service in the school gymnasium. The assembly featured the singing of O' Canada, a prayer read by Local School Board Committee Chairperson Margaret Quintal, a moment of silence, a rendition of the Last Post and the laying of the wreaths. Conklin students paid tribute to the armed forces through poetry, readings and visual messages. For example, kindergarten to grade 2 students performed In Flanders Fields and grades 3-4-5 students shared Messages of Peace on t-shirts.
Following the service, the Conklin school community enjoyed stew and bannock for lunch before diving into the world of literacy! Students rotated through a series of activities:
Book Buddies: Students gathered in the library to read books. They read with other students, parents, teachers or visitors from Cenovus.
Peace Tree: Students gathered knowledge about peace symbols and coloured peace symbols for the Peace Tree.
Music: Students experienced a music time machine listening to songs about keeping the peace. For example, Buffalo Springfield – For What It's Worth.
Post Cards: Students created post cards and wrote kind messages of thanks and gratitude to the veterans who served our country in wars and peace keeping missions.
The Butter Battle Book by Dr. Seuss: Students watched The Butter Battle Book video. The book tells the story of a land where two hostile cultures, the Yooks and the Zooks, live on opposite sides of wall similar to the Berlin Wall. The main dispute between the two cultures is that the Yooks eat their bread with the butter side up, while the Zooks eat their bread with the butter side down.
Peace Fest concluded with students receiving certificates from Cenovus and placing peace symbols on the Peace Tree. Conklin Community School and Northland School Division would like to thank students, parents, staff, community members and Cenovus Energy for contributing to the success of Peace Fest!