Back to all posts
Posted on:
Harvest Literacy Fest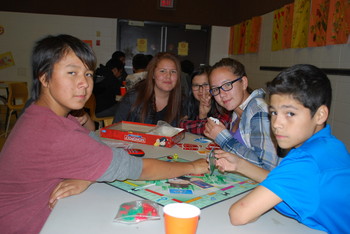 Conklin Community School hosted a Harvest Literacy Fest in partnership with Cenovus Energy on Wednesday, October 7th. The festival started with a turkey feast for students, parents, elders and community members. After the meal, families gathered in the school gymnasium to play board games such as Pictionary, Monopoly, Risk, etc. 
"I want to thank Cenovus for their continued support of Northland School Division's Literacy Initiative," said Kim Reck, Conklin Community School Teacher. "The kids were engaged while playing board games in the gymnasium, listening to stories in the library and creating crafts to end the festive day. It was indeed a fun filled afternoon and I am most thankful for those that pitched in, came and enjoyed themselves."
Reck, who helped organize the Harvest Literacy Fest says the act of playing board game helps children build literacy skills. 
"Research shows, board games can provide rich opportunities to build literacy skills like reading and communicating verbally along with some great social skills like taking turns and enjoying face to face interaction with others," said Reck.
The Conklin Kids Do Care Club would like to thank everyone for their donations to the Conklin Community Cupboard!  Club members will be boxing up the perishables and taking them to the Community Hall.