Back to all posts
Posted on:
Conklin students attend Mighty Peace Day and ME to WE visit students at Conklin Community School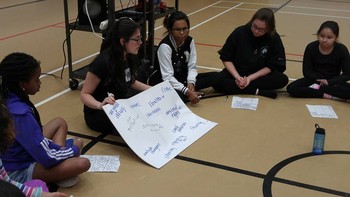 Here are the highlights from the Conklin Kids Do Care Club's Mighty Peace Day experience May 2nd in Grande Prairie! 
The students were polite, responsible and model students collecting compliments for their stellar behaviours. 
Inspirational messages were shared throughout the day. The audience was inspired but enough so that they will be moved to make a difference in their communities and for their global neighbours? Wait and see!
In the meantime club members and organizers want to give a huge shout out and round of applause to our sponsors who without their support, we would not have had this amazing eye-opening experience! Gratitude to the following folks and businesses:
Gord Atkinson, Northland School Division Superintendent of Schools
Quintal Contracting
Janvier Management Inc.
Renegade Gas & Oilfield Services, Ltd.
Dave Starling along with
Cenovus Health and Safety Stewardship Award
EA Consulting
Jason King with Kingdom Cats
Karens Katering
Robwell
On May 17th, students enjoyed an engaging presentation and Q&A session with Meagan Beliveau of the ME to WE group. Afterwards, students brainstormed concerns in the community including education and skills, health and wellness, poverty, homelessness, drug and alcohol abuse, animal rights and youth empowerment and resiliency. 
The Conklin Kids Do Care Club has loads of potential projects to think about but animal rights stood above the rest as an area that they would like to adopt as they embark on year 5 of the club's existence at the school.