District Emergency
School closures due to Evacuation Orders
School Closures due to wildfires
Career Pathways School, Wabasca Alberta
Mistassiniy School, Wabasca Alberta
St. Theresa School, Wabasca Alberta
Chipewyan Lake School
Pelican Mountain School (Sandy Lake)
Paddle Prairie School: Closed for the remainder of the 2018-2019 school year.
Any decision regarding school operations will be announced once more information becomes available.
Evacuation Orders
Sunday, May 26, 2019, at 6:00 p.m.: Paddle Prairie Métis Settlement
Re-entry for communities previously under Evacuation Order
Wednesday, June 12, 2019: Phase 3 Re-entry (Return of Residents) for Wabasca-Desmarais, Sandy Lake and Chipewyan Lake. The threat of wildfire still exists for the above-mentioned communities. As a result, a four (4) hour Evacuation Alert will remain in effect.
Question and Answer page for students, parents, staff impacted by the wildfires
Click here to view the Question and Answer page.
School News
Tower Garden Arrives in Conklin
Posted on

February 1st, 2017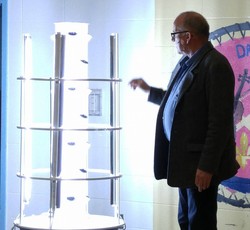 On Monday thanks to Mrs O'Neil and Mr.Turpin the school launched it's first ever Tower Garden!
Students were also given their own mini gardens to take home and nurture and grow while our Tower Garden sprouts.
Huge thanks to ConocoPhillips for supporting this exciting new venture. Over the next few months, we will wait with great anticipation the arrival of healthy greens and veggies...did anyone say smoothy?
Mmm we can't wait!
Stay tuned- we are looking for a nifty name to call our Tower Garden.  How about the Hanging Gardens of Conklin?
Check out pictures from our assembly on Facebook-
https://www.facebook.com/ConklinCommunitySchool/photos/pcb.580784238778282/580784028778303/?type=3&theater