District Emergency
School closures due to Evacuation Orders
School Closures due to wildfires
Career Pathways School, Wabasca Alberta
Mistassiniy School, Wabasca Alberta
St. Theresa School, Wabasca Alberta
Chipewyan Lake School
Pelican Mountain School (Sandy Lake)
Paddle Prairie School: Closed for the remainder of the 2018-2019 school year.
Any decision regarding school operations will be announced once more information becomes available.
Evacuation Orders
Sunday, May 26, 2019, at 6:00 p.m.: Paddle Prairie Métis Settlement
Re-entry for communities previously under Evacuation Order
Wednesday, June 12, 2019: Phase 3 Re-entry (Return of Residents) for Wabasca-Desmarais, Sandy Lake and Chipewyan Lake. The threat of wildfire still exists for the above-mentioned communities. As a result, a four (4) hour Evacuation Alert will remain in effect.
Question and Answer page for students, parents, staff impacted by the wildfires
Click here to view the Question and Answer page.
School News
Sienna Quintal- This year's Ra Ra Winner
Posted on

March 7th, 2016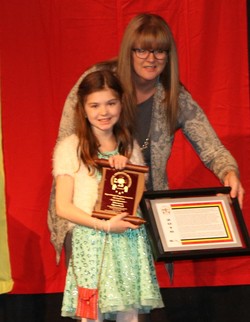 Sienna Quintal was honored at the Ra Ra Awards Saturday night at Shell Place.  According to her nomination, she is an enthusiastic student who embraces school and life… she is excited about learning not only about the curriculum covered in class- like the Ancient Greeks and carrying our chemistry labs but is passionate about learning more from family, friends and elders about the traditional Metis way of life. 
Sienna is an active grade 5 student at Conklin Community School- she has been involved in student council as a class room rep for her peers where she shared questions and concern on the school council.  She has been an active member of the Conklin Kids DO Care Club for the last 3 years assisting with school, community and region initiatives to help others including a food drive, a book drive, a school clean-up, 2 Student Votes- at the provincial and federal election levels as well as assist with library circulation.  Sienna was recently celebrated at her school with a prestigious Hi 5 Award as she is has successfully demonstrated having fun while safely and fairly participating as a valuable team member in and around Conklin Community School. Sienna enjoys Cree class, science, reading, gym and art.  She especially enjoys crafts and bead work.
She is an avid traveler and road runner along with twin sister Seneca and her mom Kathy. Some of her favorite places include Disney, Jasper, Hawaii and Palm Springs.
Sienna is keen on jigging, drumming, playing the fiddle and storytelling of tales from long ago- Sienna especially loves hearing stories by her grandma about her childhood and about her grammy and when her mom was growing up with her sisters.   She also likes to fish pickerel with Auntie Blue and Uncle Osborne. She also traps rabbit with Uncle Shaun.  She is excited to go ice fishing with both her uncles on Christina Lake.   Her uncle Shaun taught her how to sled race and she has competed the last two years in Janvier and Lac la Biche- she is fierce and fast on her ski doo!
Sienna loves her home in Conklin- she was eager to pitch in with the Bouncy castle during the Canada Day celebrations last summer. Last fall she was excited to camp out and participate in the 3 day Cultural Camp near her Uncle Osborne's trap line on Christina River.  Her grandma was impressed with her skills in putting together a lean-to and how she enjoyed being outside and exploring all that Nature had to offer and learning the traditional ways of her people. 
She enjoys hanging out her dogs Trixie and Bentley as well as her Hedgehog Hammy.  She also enjoys horseback riding when she visits Banff.  Sienna aspires be a dog groomer and hopes along wither best friend Shashawna to open a kennel and vet clinic in Conklin when they are older.
Congratulations Sienna Quintal!