District Emergency
School closures due to Evacuation Orders
School Closures due to wildfires
Career Pathways School, Wabasca Alberta
Mistassiniy School, Wabasca Alberta
St. Theresa School, Wabasca Alberta
Chipewyan Lake School
Pelican Mountain School (Sandy Lake)
Paddle Prairie School: Closed for the remainder of the 2018-2019 school year.
Any decision regarding school operations will be announced once more information becomes available.
Evacuation Orders
Sunday, May 26, 2019, at 6:00 p.m.: Paddle Prairie Métis Settlement
Re-entry for communities previously under Evacuation Order
Wednesday, June 12, 2019: Phase 3 Re-entry (Return of Residents) for Wabasca-Desmarais, Sandy Lake and Chipewyan Lake. The threat of wildfire still exists for the above-mentioned communities. As a result, a four (4) hour Evacuation Alert will remain in effect.
Question and Answer page for students, parents, staff impacted by the wildfires
Click here to view the Question and Answer page.
School News
School Bus Driver Appreciation Day
Posted on

May 4th, 2015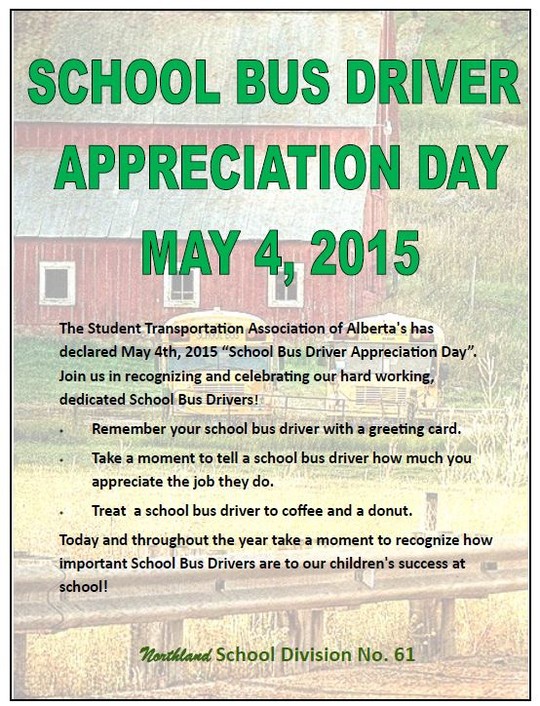 The Student Transportation Association of Alberta's has declared May 4th, 2015 "School Bus Driver Appreciation Day". Join us in recognizing and celebrating our hard working, dedicated School Bus Drivers!
Recognize your school bus driver with a greeting card.
Take a moment to tell a school bus driver how much you appreciate the job they do.
Treat a school bus driver to coffee and a donut.
Today and throughout the year take a moment to recognize how important School Bus Drivers are to our children's success at school!