School News
Pink Day at Conklin Community School
Posted on

February 22nd, 2017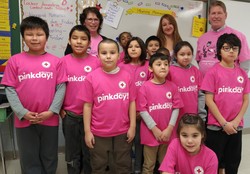 We were certainly in the pink this morning at the school as students, staff and teachers dawned their new pink t-shirts in order to support building awareness against bullying with the Pink Shirt Campaign.
The Pink t-shirt campaign commenced in Nova Scotia back in 2007.  Two incredible Nova Scotia high school students were concerned when a fellow student was being bullied for wearing a pink shirt so they decided to take a stand. They went out and bought pink shirts to give to fellow students to show their support for a boy who was being bullied simply for wearing a pink shirt and today the campaign has gone all across Canada.
We were delighted to have Official School Trustee Lois Byers, Gord Atkinson, superintendent and Krystal  Potts- executive assistant join us in honouring Pink Day.  Thanks for visiting and saying hello to all the students, staff and teachers!