District Emergency
School closures due to Evacuation Orders
School Closures due to wildfires
Career Pathways School, Wabasca Alberta
Mistassiniy School, Wabasca Alberta
St. Theresa School, Wabasca Alberta
Chipewyan Lake School
Pelican Mountain School (Sandy Lake)
Paddle Prairie School: Closed for the remainder of the 2018-2019 school year.
Any decision regarding school operations will be announced once more information becomes available.
Evacuation Orders
Sunday, May 26, 2019, at 6:00 p.m.: Paddle Prairie Métis Settlement
Re-entry for communities previously under Evacuation Order
Wednesday, June 12, 2019: Phase 3 Re-entry (Return of Residents) for Wabasca-Desmarais, Sandy Lake and Chipewyan Lake. The threat of wildfire still exists for the above-mentioned communities. As a result, a four (4) hour Evacuation Alert will remain in effect.
Question and Answer page for students, parents, staff impacted by the wildfires
Click here to view the Question and Answer page.
School News
Moose Hide Tanning Week
Posted on

June 5th, 2015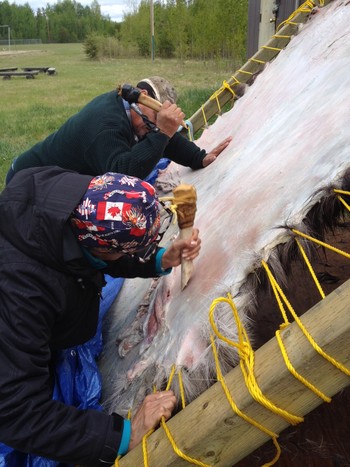 Students at Conklin Community School experienced the true sense of experiential learning recently. They gathered knowledge about traditional moose hide tanning. With assistance from Cultural Adviser Herman Sutherland and Northland School Division's First Nations, Métis and Inuit (FNMI) Coordinator Joyce Hunt, students participated in the tanning process. All of the curriculum outcomes were met during this outdoor cultural learning experience. The following outcomes were developed by Alberta Education. 
Applications: 
A-1 to share information
A-1.1 share factual information
A-3 to get things done A-3.1 guide action of others
A-3.3 group action
A-3.3a small group tasks
A-4 to form, maintain and change interpersonal relationship
A-5 to enhance their knowledge of the world
A-5.1 discover and explore
A-5 1a ask questions and clarify understanding
Language competence: 
LC-2 interpret and produce oral texts
LC-2.1 listening
LC-2.2 b engage in simple interactions using simple sentences and/or phrases.
Language use and language learning
Community Membership: 
S-1.1a identify and use a variety of strategies to enhance Language learning and cultural learning.
S-3.1 cultural learning
S-3.1a identify and use a variety of strategies to enhance cultural learning.
Strategies: 
CM-1 Mother Earth
CM-1.1a participate in activities that show care respect for Mother Earth.
CM-1.3a explore basic, key practices and products related to Mother Earth.
CM-1.4 past and present perspective
CM-1.4a explore past and present Cree Values related to Mother Earth
CM-1.5a explore diverse Cree Values related to Mother Earth
CM-2.3a explore cultural practices and products of Cree people in Canada.
CM-3 themselves
CM-3.1 relationships
CM-3.3 practices and products
CM-3.3a explore Cree culture experiences, practices and products.
See photos to view process
Photo 1: 
Students construct a frame which is used to keep the moose hide in position for fleshing. 
Photo 2: 
Students lacing and stringing the hide to begin the fleshing process. 
Photo 3: 
Students take turns fleshing one side of the moose hide. 
Photo 4: 
Students work to remove hair from the other side of the moose hide. This process includes unlacing the hide, flipping the hide over and re-lacing it. Once that's complete, students begin fleshing again. 
Photo 5, 6, 7, 8: 
Washing, wringing and stretching the hide is the next step.
Photo 9: 
Hide being smoked. 
Photo 10: 
End result! Congrats everyone!