District Emergency
School closures due to Evacuation Orders
School Closures due to wildfires
Career Pathways School, Wabasca Alberta
Mistassiniy School, Wabasca Alberta
St. Theresa School, Wabasca Alberta
Chipewyan Lake School
Pelican Mountain School (Sandy Lake)
Paddle Prairie School: Closed for the remainder of the 2018-2019 school year.
Any decision regarding school operations will be announced once more information becomes available.
Evacuation Orders
Sunday, May 26, 2019, at 6:00 p.m.: Paddle Prairie Métis Settlement
Re-entry for communities previously under Evacuation Order
Wednesday, June 12, 2019: Phase 3 Re-entry (Return of Residents) for Wabasca-Desmarais, Sandy Lake and Chipewyan Lake. The threat of wildfire still exists for the above-mentioned communities. As a result, a four (4) hour Evacuation Alert will remain in effect.
Question and Answer page for students, parents, staff impacted by the wildfires
Click here to view the Question and Answer page.
School News
Have your say in Education
Posted on

February 17th, 2015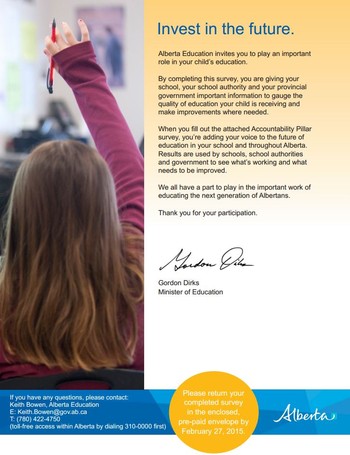 Parents have a direct impact on education and that's why Conklin Community School is asking for their support. 
We will be contacting parents to complete the annual Accountability Pillar Survey by February 27, 2015. Students in grades 4, 7 and 10 and all teachers will complete the survey online at school. Schools with fewer than 120 students enrolled in grades 4-12 will see the survey expanded to include all parents of students in Grades 4 and above.
The Accountability Pillar Survey uses a number of indicators to determine how schools are measuring up. All surveys are anonymous and ask questions about the school environment, program of studies, the quality of education, student preparation for future careers, parental engagement and the school improvement process. Once surveys have been gathered, responses will be reviewed by all Northland schools, the Northland Board and the Alberta Government. This process will help NSD61 learn what is working and what needs improvement. The results will be reported publicly as part of the NSD61 Three-Year Education Plan and the Annual Education Results Report. 
If you have any questions please give us a call at 780-559-2228. 
Click here to learn more about the Accountability Pillar Surveys. 
Click here to view Northland School Division's Media Release.