School News
Harvest Feast
Posted on

September 25th, 2015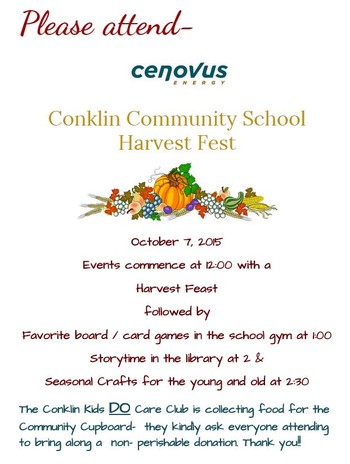 Conklin Community School is set to host its second Harvest Literacy Feast at the school. Events will commence at noon on October 7, 2015 as students, their family and staff gather in the school auditorium to celebrate the harvest with a delicious turkey dinner sponsored by Cenovus.
Cenovus generously sponsors the Division's Literacy Initiative, and volunteers from the company are no strangers to Conklin Community School as they have participated in other events aimed at strengthening literacy including reading with students and attending special events like Remembrance Day and Family Literacy Day.
 This year the school is hosting a favourite board games afternoon and the staff encourages everyone to bring along their favourite games.  Board games can provide rich opportunities to build literacy skills like reading and communicating verbally along with some great social skills like taking turns and enjoying face to face interaction with others. Other events include a soccer baseball game, arts and crafts and seasonal stories in the school library.  
We hope you can join us at the school for this fun filled afternoon.