District Emergency
School closures due to Evacuation Orders
School Closures due to wildfires
Career Pathways School, Wabasca Alberta
Mistassiniy School, Wabasca Alberta
St. Theresa School, Wabasca Alberta
Chipewyan Lake School
Pelican Mountain School (Sandy Lake)
Paddle Prairie School: Closed for the remainder of the 2018-2019 school year.
Any decision regarding school operations will be announced once more information becomes available.
Evacuation Orders
Sunday, May 26, 2019, at 6:00 p.m.: Paddle Prairie Métis Settlement
Re-entry for communities previously under Evacuation Order
Wednesday, June 12, 2019: Phase 3 Re-entry (Return of Residents) for Wabasca-Desmarais, Sandy Lake and Chipewyan Lake. The threat of wildfire still exists for the above-mentioned communities. As a result, a four (4) hour Evacuation Alert will remain in effect.
Question and Answer page for students, parents, staff impacted by the wildfires
Click here to view the Question and Answer page.
School News
Green Eyed Monster Up and Growing at Conklin
Posted on

March 1st, 2017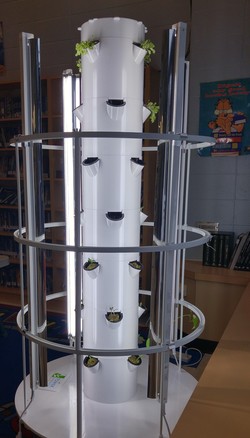 We now have our Tower Garden up and running in the school library. Mr. Johnson chose 'The Green Monster' as the name for our tower.  The grade 6/7/8/9 class named the Tower Garden.  It is not too green at the moment but we hope to have lettuce, cucumbers, peppers, beans, tomatoes, kale and spinach growing and green by the end of March. Most of this produce will be used for smoothies and sampling. If you have time come in and have a look- the Green Monster lives in the library.