School News
Family Literacy Month in Conklin
Posted on

October 26th, 2015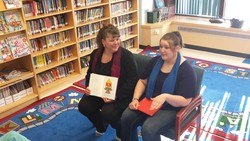 The Wood Buffalo Library in conjunction with the Rotary Club of Fort McMurray sponsored two authors to visit Conklin Community School. 
Jacqueline Guest is a celebrated Canadian youth and children's storyteller. Many of her award winning books have main characters of ethnic backgrounds including First Nations, Inuit or Metis. If you've read her books you'll agree she brings magic and immense awe. Some students finished their session with her by exploring Morse Code and the author gave away a novel to the winning student.
Sheila Chartrand and her daughter Kallie (illustrator of book) read from two of her published books from a series called "Come Over To My House". Then the students learned about how the author embarked on her career sharing that simple every day events that happened with her two children turned into the great stories that she shared with the students.