School News
ENERGIZE OIL COUNTRY CHALLENGE BEGINS!
Posted on

January 13th, 2017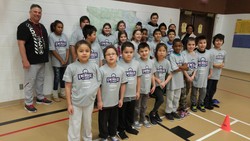 As part of our APPLE Schools initiative, Conklin Community School has signed up to participate in the Energize Oil Country Challenge to  participate in 60 minutes or more of activity every day for the next 10 weeks. The 60 minutes can happen at home or at school. The physical activity can be almost anything that is active. Some examples include walking, shoveling, etc.
WE ARE GOING TO NEED YOUR HELP, PARENTS AND GUARDIANS TO ENCOURAGE YOUR CHILD TO PARTICIPATE IN 60 MINUTES OF ACTIVITY ON HOLIDAYS AND DURING THE WEEKENDS.
The classes receive tickets for participation that will go into a draw for a chance to win the grand prize which is an all expense paid trip for the class to watch an Oilers game in Edmonton. and also an opportunity to feel better. You will be kept updated until the end of the challenge on March 19th. Thank you for your support.