District Emergency
School closures due to Evacuation Orders
School Closures due to wildfires
Career Pathways School, Wabasca Alberta
Mistassiniy School, Wabasca Alberta
St. Theresa School, Wabasca Alberta
Chipewyan Lake School
Pelican Mountain School (Sandy Lake)
Paddle Prairie School: Closed for the remainder of the 2018-2019 school year.
Any decision regarding school operations will be announced once more information becomes available.
Evacuation Orders
Sunday, May 26, 2019, at 6:00 p.m.: Paddle Prairie Métis Settlement
Re-entry for communities previously under Evacuation Order
Wednesday, June 12, 2019: Phase 3 Re-entry (Return of Residents) for Wabasca-Desmarais, Sandy Lake and Chipewyan Lake. The threat of wildfire still exists for the above-mentioned communities. As a result, a four (4) hour Evacuation Alert will remain in effect.
Question and Answer page for students, parents, staff impacted by the wildfires
Click here to view the Question and Answer page.
School News
Cree Class
Posted on

May 12th, 2015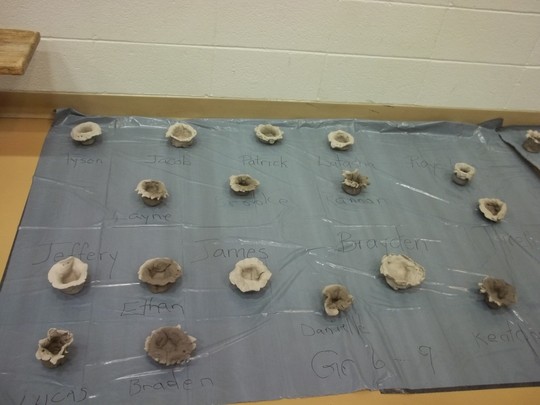 Cree class students had the opportunity to experience hands on learning working with clay and developing beautiful art pottery pots. Students were able to target Cree vocabulary phrases describing their artworks through Language learning and Language use. Students also participated, practiced and learned Cree songs. Students developed musical coordination skills and listening skills.
Supporting outcomes:
Applications: To share information, to get things done, for imaginative purposes and personal enjoyment.
Language competence: Attend to form the language in guided lesson.
Community Membership: Mother Earth and themselves.
Strategies: Language learning, language use and cultural learning.