District Emergency
School closures due to Evacuation Orders
School Closures due to wildfires
Career Pathways School, Wabasca Alberta
Mistassiniy School, Wabasca Alberta
St. Theresa School, Wabasca Alberta
Chipewyan Lake School
Pelican Mountain School (Sandy Lake)
Paddle Prairie School: Closed for the remainder of the 2018-2019 school year.
Any decision regarding school operations will be announced once more information becomes available.
Evacuation Orders
Sunday, May 26, 2019, at 6:00 p.m.: Paddle Prairie Métis Settlement
Re-entry for communities previously under Evacuation Order
Wednesday, June 12, 2019: Phase 3 Re-entry (Return of Residents) for Wabasca-Desmarais, Sandy Lake and Chipewyan Lake. The threat of wildfire still exists for the above-mentioned communities. As a result, a four (4) hour Evacuation Alert will remain in effect.
Question and Answer page for students, parents, staff impacted by the wildfires
Click here to view the Question and Answer page.
School News
1st Annual Conklin Community School Spelling Bee
Posted on

April 14th, 2015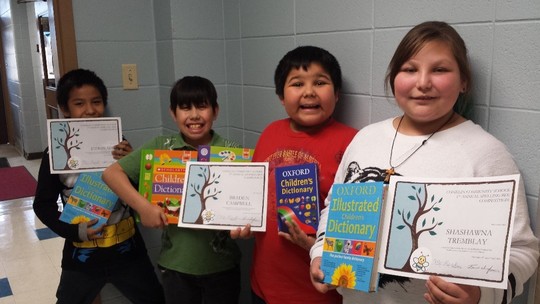 It was an exciting first Spelling Bee at Conklin Community School as contestants competed in the school's first ever Spelling Bee. Members of the Club committed in January and attended weekly spelling meets during recess where they practiced, played and rehearsed for the Spelling Bee. Members of the school and the community including proud parents and family attended the tense competition in the school library. It was quite the competition too as not even a whisper could be heard as participants spelled their words. Congratulations to all participants- they are indeed all winners for dedicating such time, energy and enthusiasm to this event. The Spelling Bee Club would like to thank all the guests who took time out of their busy schedules to attend our first inaugural event. And also to those that just could not attend, thanks for your support in helping us get ready by helping us with our word study.